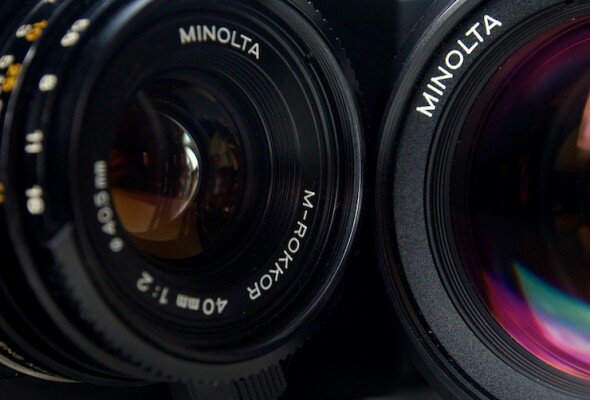 There's no doubt a lot has been written on the Internet about this little Minolta rangefinder camera already, even though the camera is out of production since long before the Internet became a reality in the first place. Among all the rangefinder camera systems available throughout the last decades, the CLE has always been somewhat of a dark horse. Minolta was an excellent manufacturer in the day and well known for its outstanding SLR cameras, their compact, fixed lens rangefinders were never a breakthrough success such as the Canonet QL 17 from Canon. Through a largely obscure cooperation with Leica, Minolta was commissioned to produce the Leica Minolta CL, a much cheaper and smaller variation of the existing Leica M rangefinder cameras. Also, Minolta was working with Leica to design what later was to become the XD/XD7/XD11 from Minolta and the Leica R4 SLR. At a later point in time, Minolta took the CL and improved it beyond what current Leica cameras were able to do – the Minolta CLE was born. CLE stands for Compact Leica Electronic.
I found my way into analog photography mostly through Minolta's MC and MD based SLR systems. My late grandfather left me a Minolta XG1 along with a Minolta Rokkor MD 50mm f/1.4 and a pair of Tokina MD zoom lenses. From there on, I had the Minolta bug. I soon upgraded to the XD7 and X-700 and started acquiring the best Minolta Rokkor glass I could scavenge off Ebay and the likes. At some point I acquired a Minolta Hi-Matic 7SII rangefinder with a very capable fixed 40mm lens. Since then, my interest in rangefinders grew and it wasn't long that I knew about the CLE. The problem was getting one. As it turns out, less than 35,000 cameras were ever produced and more than 30 years after it was introduced first, nobody can tell how many working units still circulate used camera sales. Now, when you think any of the Leica M bodies are a good investment for rarity, think again!
My personal finding was that prices for a working CLE unit must have gone up during the last three years. Thanks to Japan Camera Hunter Bellamy Hunt I secured a CLE with a Minolta M-Rokkor 40mm f/2 for myself. Bellamy and myself got a little unlucky with that particular unit as one of the previous owners had it repaired badly and the electronics were damaged through a badly done soldering job. As a result, I needed to overhaul the camera which turned out to work just fine at the excellent Kameraklinik which is run by former Minolta service technicians. If you ever have a broken Minolta or you just want to have yours cleaned, adjusted or maintained, this is the place to send it to.
A fully working CLE is a piece of precision engineering that rivals the best in its class. What strikes me most about this camera, is how lightweight and small it is yet everything feels solid and robust. Exposing couldn't be easier. The camera measures through the lens in aperture priority mode. Looking through the viewfinder you can see the shutter time the meter chose for your current aperture. The actual exposure time is in fact determined while the shutter curtain opens and the light is measured off the film during exposure! Very few cameras can do this. The result is a very precise exposure which makes this camera easy to use with film that has low latitude, for example slide film which I still like to use as long as it's still on sale readily.
When I bought the CLE, I wanted to evaluate for myself whether I can get enough use out of a Leica M based rangefinder camera to justify further investments into a Leica M body and M glass. Coming from Minolta's analog SLR range of cameras, I had certain expectations as to how the CLE had to measure up against my trusted Minolta XD7. Let's see how that turned out!
Rewinding and Loading Film
Rewinding basically works the same way on both cameras. It's fast and easy. The rewind knob on both cameras has a direction indicator, so you know which way to turn. On both cameras you have to unlock the rewind with a button on the bottom which double functions on both cameras to enable multiple exposures by preventing film transport when the film advance lever is cocked.
Loading film into the XD7 is easy and fast. There are no loose parts to hold or take care of as you open the camera and you can easily see whether your film is advancing correctly before you close the back. Even after the back is closed, a red marker in a transparent window is showing that the film is advancing correctly.
The same is more or less correct for the CLE. Apart from the film transport marker, the experience is similar and just as fast.
I manage to load a new film in either camera while sitting on the Hamburg subway in between any two stations (which equals the sum of a lot of distractions, a shaky environment, curious gazes from other passengers and only 2 minutes time).
So, both cameras pass this test without any problems. Looking at how this translates to a Leica M body, I am a bit skeptical. Many M cameras have loose parts while you open the body to change and load film. I wouldn't want to drop any such part while being on a bus, a subway or whatever. The way Minolta solved this compared to Leica is a clear advantage for the CLE.
Film transport as such is also easy and convenient from my personal view. While using both Minolta bodies, the film advance lever has to be cocked all the way to advance the film, I find that no problem at all. At some times, I also use an Auto-Winder for the XD which enables it to shoot up to two frames per second. Since analog cameras have no buffer, I can actually shoot 36 frames in 18 seconds. I recon that might be faster than many digital camera manage to empty their buffer under certain circumstances.
Setting the right exposure
Thanks to TTL metering, both the CLE and the XD7 offer a reliable and easy shooting experience. In terms of creative possibilities the XD body owns this game though. It's a truly unique camera of its time. It came with a manual mode, aperture priority and shutter priority mode. The manual mode is fully metered. The XD/XD7/XD11 was the first camera ever to include these three modes in one body. Even better, it also came with a "hidden program mode" or put in a different way: a final check metering system that would check the exposure again after stopping down the lens and adjust the shutter speed in shutter speed priority mode to make sure the exposure is correct.
Leica's R4 which is based on the XD had a more advanced meter. Instead of center weighted metering only, it also had a spot meter.
The CLE's meter is also very sophisticated with the meter actually measuring off the film as the shutter curtain opens to set the actual exposure. The meter is also center-weighted. As one of a few select cameras in the M range of rangefinders, the CLE offers TTL metering. Fiddling around with the aperture in aperture priority mode, you can get to any exposure you can get with the XD. It's much harder though and a lot of time is lost. A metered manual mode is missing too.
Also important to me is the ability of a meter to work with high ISO film – or pushed film for that matter. The XD's meter works up to ISO 3200. The CLE's meter stops at ISO 1600.
A Leica body I'd be interested in needs TTL metering, a fully metered manual mode and the ability to work with high ISO film. That limits my choice in Leica bodies considerably as not many Leica M bodies can do that.
Framing and setting the right focus
Framing the shot and setting the correct focus is one of the most important aspects on which you should base a decision to buy a camera or not. This particular aspect also happens to be where SLRs and rangefinders differ the most.
Looking at the XD, its very bright viewfinder screen allows easy and fast split screen based focusing through the lens in most light conditions, mostly depending on the maximum aperture of the lens you are looking through. The viewfinder displays both aperture and shutter speed, so you don't have to take your eyes off the viewfinder, not even in metered manual mode. Using the XD and fast Rokkor lenses like my MD 28mm f/2 or MD 50mm f/1.2 I can reliably focus in both daylight or near darkness without any problems.
The CLE is a different beast. Its viewfinder is bright, the viewfinder patch is also bright and it displays the shutter times. It doesn't display which aperture is set. Like other M mount rangefinders, the viewfinder shows the frame line of the lens attached. In the CLE's case, it always shows the 28mm frame line and either the 40mm or 90mm frame line. The 28mm frame line does not fill the whole viewfinder, so you can always see what's going on around your frame as you look through the viewfinder. That's certainly the main advantage of the rangefinder principle. When using a 40mm or 90mm lens, most of the viewfinder real-estate is lost. Those frame lines shrink to the size of a hamster's thumbnail – or so it seems after you enjoyed the 100% viewfinder real-estate of a Rokkor 50mm attached to the XD.
I really think that most rangefinder cameras which cannot magnify the viewfinder based on the attached focal length should not be used with lenses longer than 40mm or 50mm. I probably would have looked for a CLE with a 28mm lens instead if I had known how severe this limitation turned out for me.
Focussing with the rangefinder patch is fairly easy in good light and takes some practice and experience. The focus lever of the Rokkor lens I use is at times difficult to find with my fingers only but this is an issue of practice. What's more severe is my inability to focus the CLE in poor light at all. Even with me wearing prescription glasses, the rangefinder patch of the CLE is not bright enough to compete with the split screen through-the-lens focusing experience on my XD with a fast lens. That basically turns the CLE into a daylight camera for me (along with the fact that the meter doesn't support ISO ranges beyond ISO 1600).
Probably being the most critical aspect of my rangefinder evaluation, I find myself using the CLE more often zone focussing than actually focussing to the point – most of all when I have to work fast or the moment will be gone. If that's the case for any Leica rangefinder camera then I have to ask the question as to how useful expensive, fast Leica glass will be to me when I cannot use it wide open as I will miss focus more often than not.
I can see myself investing into a good 28mm lens though for use on the CLE. From all I have read on the Internet about the CLE compared to Leica bodies, it's 28mm frame line viewfinder is just as good or even better than many Leica bodies. Also, a 28mm lens is easier to zone focus without losing too much light by stopping down.
Weight & Size Considerations
The CLE is a very compact and lightweight camera. It's a joy to carry it. The M-Rokkor 40mm lens is tiny and doesn't add any bulk or weight to the combination. In comparison, the XD7 with a MD Rokkor 50mm f/1.2 is not that much bigger but the weight difference is considerate. This round clearly goes to the CLE which makes a very good walk around camera in terms of weight and form factor.
Does the CLE's win translate to Leica's M range? Not necessarily. All of Leica's M bodies are bigger and heavier than the CLE. That's also due their better built quality and use of metal construction but also because the form factor is bigger. A Leica M6 body is actually bigger than the XD7! Yes, you read that right: a Leica rangefinder body is bigger than a SLR! Just the SLR lenses add more bulk to the XD7 while the Leica M bodies benefit from smaller, more compact lenses – given you don't go for the extremely fast lenses beyond f/2. The build quality of a XD7 is excellent, it doesn't differ much from a typical Leica body for practical use considerations as far as I'm concerned. I wouldn't see a Leica body as an upgrade to either my CLE or my Minolta SLR in terms of weight or form factor.
Image Quality
I am not one to "measurbate" over image quality on a level where I needed a high quality scanner to digitalize my negatives in the first place to spot the differences between an image taken with a XD7 and say a Rokkor MD 28mm f/2 at f/2.8 and a Leica M body with a Elmarit ASPH 28mm f/2.8 wide open. I have no doubt however, that the image quality of the CLE or a Leica with any Rokkor or Leica lens will beat the XD with any MD/MC lens at large aperture across the frame – no doubt about that. But will that make a difference for me? Probably not. To photograph with the CLE or any Leica body at large apertures, I need to set the focus precisely. That takes a lot of time and is particularly hard in low light. In situations where there is no time to focus precisely at a large aperture – like in street photography in the widest sense, including travel photography – most people, including me, fall back on pushing film to higher ISO values and use zone focussing. Now, when I compare images from my CLE with my M-Rokkor lens at small apertures to a images from my XD with good Rokkor glass at equally small apertures, I do not think the CLE is leading that much anymore if at all. The same will be true for a Leica body with most Leica lenses.
As a side note, I never understood why people care so much about the Leica's viewfinder and focussing mechanism if all they do with the camera is street photography with zone focussing. In that case, they could have saved hundreds of dollars and just buy a Voigtländer Bessa-L or Bessa-T, get a hot shoe viewfinder which will beat ANY rangefinder viewfinder for clarity and field of view/magnification and be done with it. The actual image results would be exactly the same.
Based on the above thoughts, I probably wouldn't let the better image quality of rangefinder systems count as an argument against using an SLR with a good, fast lens.
Verdict
A manual-focus rangefinder system (digital or film) will never form the anchor of my photographic gear and work. For me and the way I work with cameras and the scenes I want to photography, such a rangefinder system is not ideal. Does this statement reflect negatively on the CLE? Certainly not. It's a very fine camera, manufactured to the highest standards and apart from the rangefinder specific issues with framing and focussing that may be my personal issue, it's very easy and convenient to use – probably easier than any Leica in many ways based on the fact that the CLE is more advanced than any Leica up to the M7 or current MP.
I can see myself using the CLE with a good 28mm lens in the future to make use of the full viewfinder area, benefit from a bit more depth of field due to the focal length and the better image quality in terms of distortion and corner sharpness when comparing to most SLR setups. I would probably never use the CLE with the 90mm option. I don't think that makes sense with any rangefinder that cannot magnify the viewfinder accordingly (like Contax does) and focus automatically.
As for manual focus cameras, the classic SLR still rules the game in my world. I could very well imagine to try a Contax G1/G2 based rangefinder system which eliminates the annoyances of manual focussing and losing viewfinder real-estate at higher focal lengths. Also, looking at Leica's R system of SLR cameras and lenses can be worth a consideration – given that Leica R lenses are considerably better than Minolta's MD Rokkor glass.
Next in line is a Konica Hexar AF that Bellamy sourced for me. Once I had the chance to use that camera for a while, I will review it and compare it to the CLE as well.
Please leave your comments below.