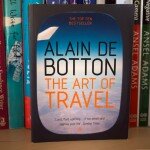 When someone says travel guide, most people will think of Lonely Planet, National Geographic, or other well known travel guides. Alain de Botton's "
The Art of Travel
" is an utterly different approach to structure and present a guide for travelers. Summarized in a single sentence,
The Art of Travel
is to travel writing what
Sophie's World
is to philosophy. Rather than ...