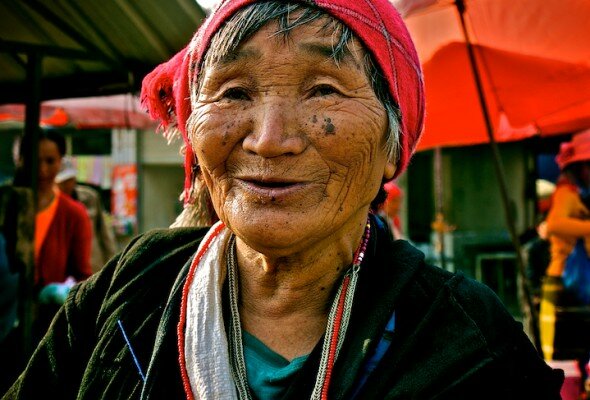 Many believe the Chinese province offering the most diverse China experience is Yunnan. In fact, I share this belief as I've had the chance to travel Yunnan twice over the last years. One Yunnan region especially exotic is Xishuangbanna, located all the way in the south of Yunnan, bordered by Myanmar, Laos and Vietnam. Xishuangbanna is home to the ethnic minority of the Dai. In fact, Xishuangbanna is an autonomous prefecture with the Dai language being semi-official in the region. It's spoken by officials and locals alike, even signs are bi-lingual in written Dai and Mandarin. The Dai also don't fall within the One-Child-Policy and as the Han are slowly pushing into the regional culture, the Dai still maintain their local culture and traditions – such as the Dai new year celebrations with the Water Splashing Festival which is also known in Thailand.
The dominant religion in Xishuangbanna is Theravada Buddhism. There are a number of ancient pagodas and temples, some dating back almost a thousand years. The way religion is interpreted in China is not as deep as in other Asian countries though – the decades of Communism rule and the Cultural Revolution have left their marks.
Throughout the recent decade, the infrastructure has improved tremendously – at the cost of the environment. Xishuangbanna now has modern streets, most smaller towns have electricity and clean water. The original, natural rain forest has been displaced almost completely by either tea or rubber tree plantations.
View this set of images on Flickr.